Simplifying the Confusion of the Office 365 Pricing Plans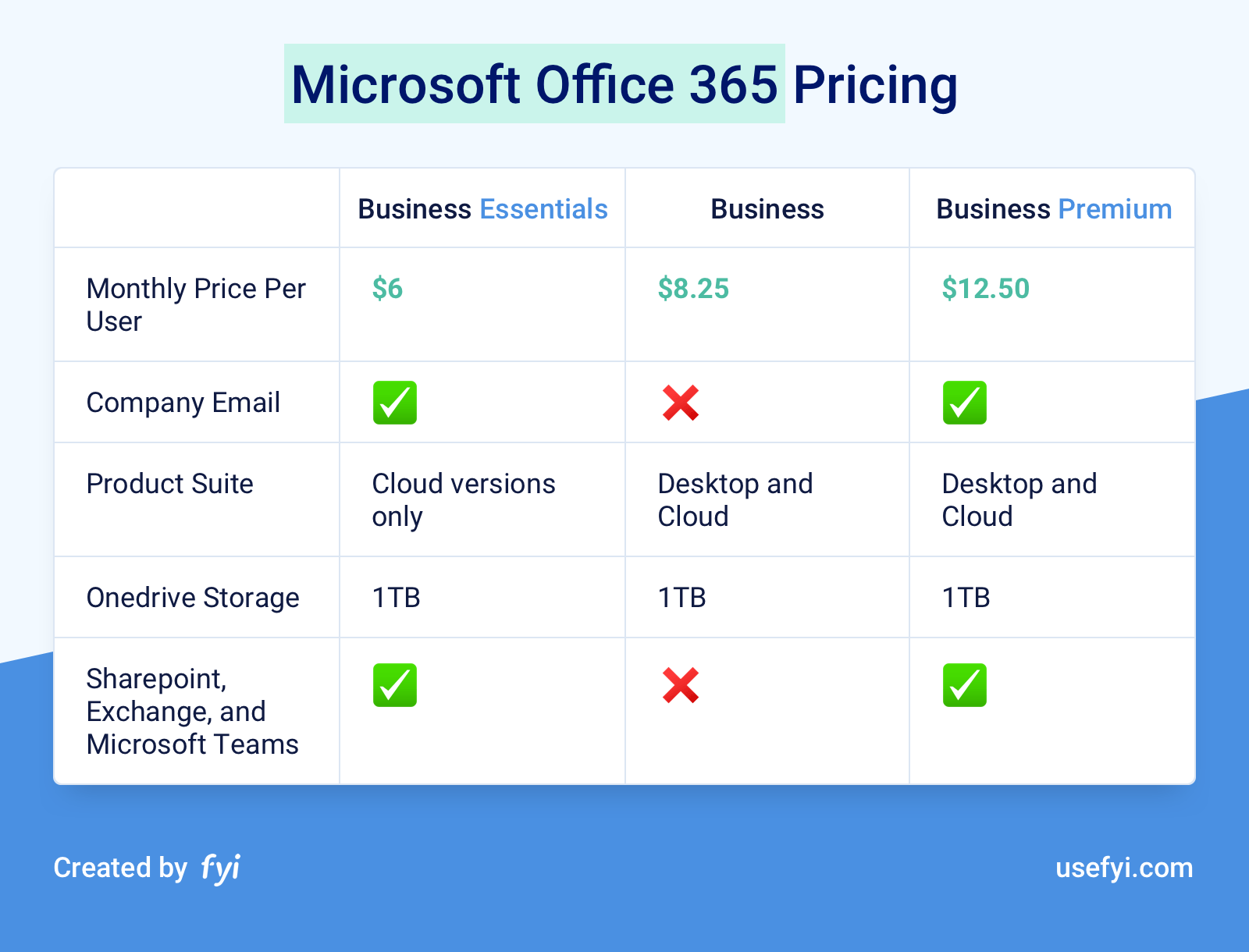 The Office 365 pricing plans get a bit confusing.
There's personal Office 365, business Office 365, editions available for a one-time purchase, subscription versions, and multiple plans for all the above.
It's a lot.
To cut through the confusion and help you pick the best plan, we've sorted everything out below.
When looking at Office 365, pricing is separated into two main groups: personal and business. Let's go through the personal plans first.
Microsoft does have several Office 365 plans for personal use: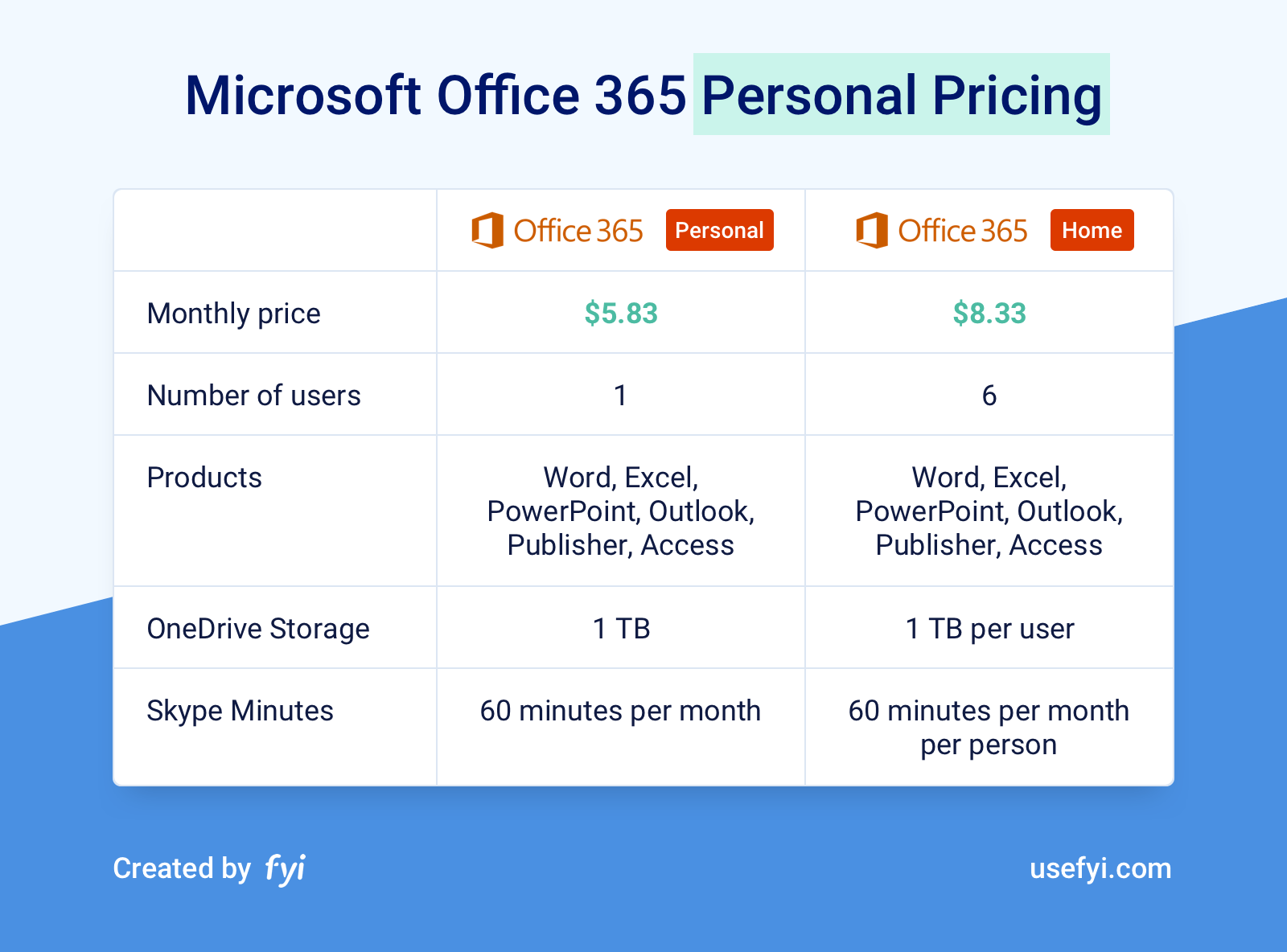 Keep in mind that all the products are available on Mac except for Publisher and Access
Also, the prices are monthly if you pay for an entire year up front annually. There is monthly billing but the prices will be higher.
Here's how to think of the two plans:
Office 365 Personal = Perfect if you only need Microsoft Office for yourself.
Office 365 Home = Good option if you want to get your whole family access to the Microsoft Office suite.
If you're using Office 365 for non-commercial use, all you need to decide is how many people at your home need access. Nice and easy.
Is Office 365 worth getting for personal use?
I don't believe so. Even the personal plan comes to about $70 per year. That's a lot compared to a free Gmail account from Google which includes access to Google Docs, Sheets, and Slides. Not only does Google offer their products for free to individuals, they also have a reputation for being much easier to use than the Microsoft Office products. In most cases, Google's the better choice for personal plans.
There are two situations where I would go with a personal Office 365 plan:
I worked in an industry or organization that used predominantly Microsoft Office products and my company didn't have a subscription to an Office 365 business plan. In that case, paying $70 a year to avoid the hassle of having to convert documents back and forth is well worth the cost.
I personally needed the extra power that Microsoft's products have. While Google has a reputation for having products that are easier to use, Microsoft's products have more advanced features. Especially if I was doing heavy spreadsheet work, I'd get a personal version of Office 365 just for Excel.
There are also business plans for Office 365.
The biggest difference between the personal and business plans is the business versions are built around users. You'll be able to easily add and remove users for your company. When a new employee joins, you'll log into the admin area of Office 365, add the user, and that employee will have full access to Microsoft Office 365. It's a lot easier than dealing with licenses for individual computers.
Now for something super confusing: Microsoft only licenses their business plans for commercial use, their personal Office 365 plans are only licensed for home use.
What does that mean?
Technically, you can't use a Microsoft Office personal plan for working in a business setting. Does anyone enforce this? Not really. Do lots of people buy personal versions and then work on their business anyway? Yup.
And how do you even define "business" setting versus a "home" setting? Lots of us work from home and have side projects. Is this allowed on personal office plans? Honestly, I have no idea. After spending a bunch of time trying to find exact definitions for what business and personal versions of Office are licensed for, I'm just as confused as when I started.
This is a vestige of the old Microsoft Office days when work was clearly split between home and office environments. Now that work has moved to the cloud and we can work from anywhere, all the lines have been blurred.
Thankfully, this is a non-issue for the most part. As soon as there are two people working at your business, you'll want to get on the business plans in order to get company email and easily manage users on your plan.
The Office 365 business plans compete directly with G Suite's plans. We have an in-depth article that breaks down the difference between them here.
All of the business plans include Outlook, Word, Excel, PowerPoint, and Access.
The Office 365 plans do have one major weakness though.
Every time I go back to the Office 365 business pricing, I think to myself: "I must have gotten something wrong, why wouldn't they include email on their middle tier? It makes no sense."
Then I check their pricing page and the middle plan (Business) still has company email missing.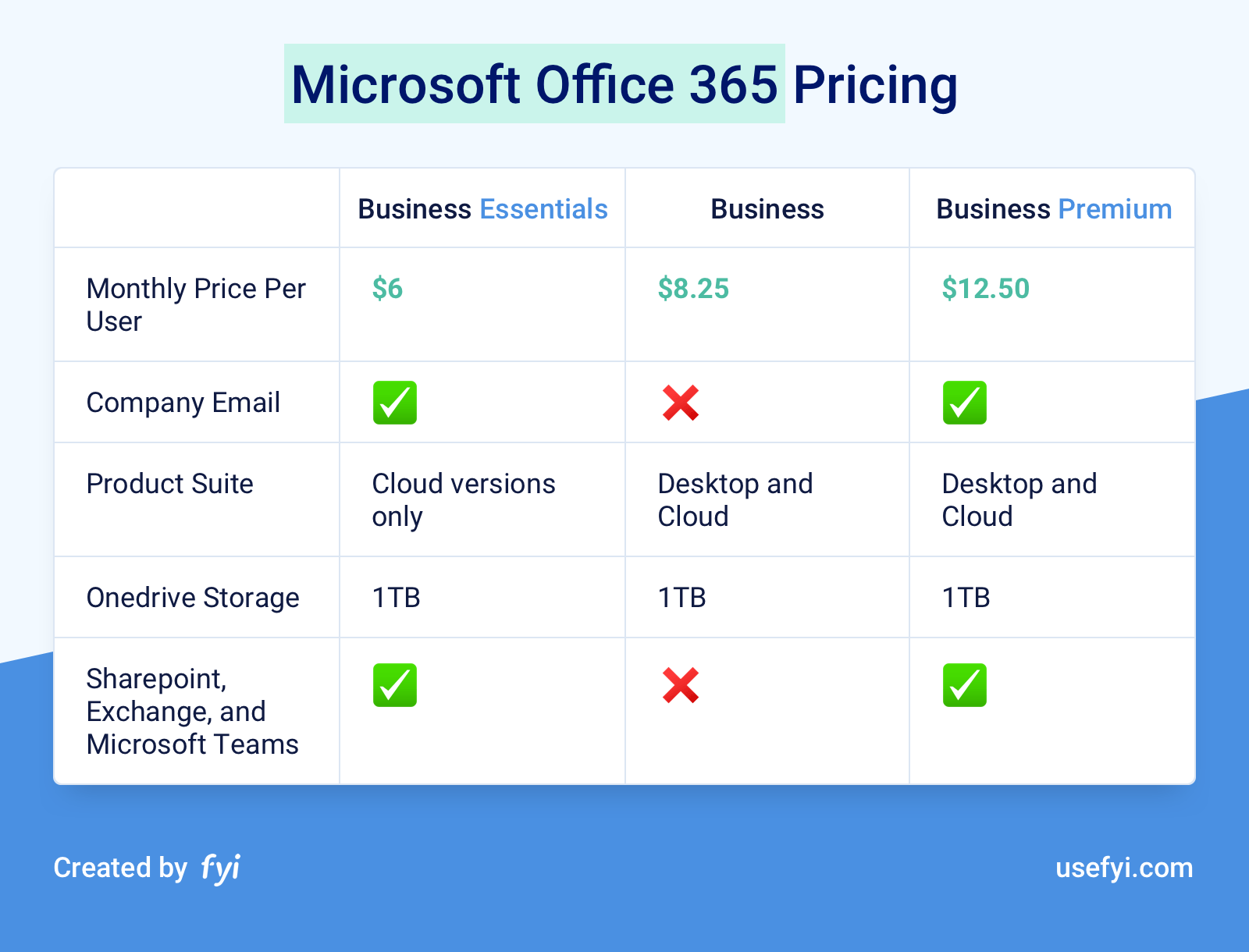 When sitting up an office suite for your company, you also want to set up your company email. You'll want an easy way to create name@company.com email addresses for all your employees. G Suite pioneered this by bundling the Google Doc apps with Gmail. Giving a new person at your company an office suite and company email at the same time removes a ton of headaches.
Unfortunately, only the lowest and most expensive Office 365 business plans include company email. The middle plan does not.
This pricing has a major gap that we're forced to contend with. Here's how the 3 business pricing tiers really break down:
Business Essentials = a nice, low price, but only web-versions of the product suite so you and your team can't take advantage of the extra horsepower from having Office 365 apps. Does have company email.
Business = can get the full power from the product suite by having desktop versions but there's no company email.
Business Premium = the only tier that has full desktop apps and company email. I'm basically forced to upgrade straight to this tier to use the core benefits of Office 365.
Another hurdle to watch out for: if you start with Business Essentials and use the company email, you won't be able to use the middle Business tier down the road since it lacks email functionality. In other words, the only upgrade path is to go from Business Essentials to Business Premium which will more than double your monthly bill. The only way around this is to manage email yourself, typically through your web host. Or you could skip Office 365 entirely and use G Suite which has Gmail available on all its plans.
Office 365 does have some legitimate strengths of G Suite, mostly around the power of their apps. Excel runs circles around Google Sheets. If you're doing serious spreadsheet work, it's worth choosing Office 365 just to get access to Excel.
But the lack of company email in the Office 365 Business plan makes the purchase decision more complicated. It practically forces companies into the Business Premium version from the beginning, doubling the price of the product.
I really wish that Office 365 offered company email on all its business plans, it'd make a much more compelling offer.
Is it still possible to buy Microsoft Office as a one-time purchase?
Yes, Microsoft has two versions available without a subscription.
Office Home & Student = Word, Excel, and PowerPoint for $149.99
Office Home & Business 2019 = Outlook, Word, Excel, PowerPoint for $249.99
Each option comes with the current version of all the products but doesn't include upgrades like the Office 365 subscription plans. After a few years, you'll have to purchase Microsoft Office again in order to upgrade the products.
They also don't include OneDrive storage, Skype minutes, or cloud versions of the products. They're old-school one-time install licenses.
Should I choose the one-time purchase option instead of Office 365?
Getting an Office 365 subscription will almost always be the better choice.
For businesses, we don't consider the one-time purchase edition of Microsoft Office to be a viable option. The Office Home & Business edition is only licensed for one computer at a price of $250. That's a steep price for a single computer. If you plan on hiring any employees, you'll get forced into Office 365 just to get multiple users on your plan.
As a business, you'll also need to stay on top of software upgrades. The one-time purchase only gets you access to the current version of the Microsoft Office apps. After 2-3 years, your version will be out-of-date enough that you'll need to upgrade with another one-time purchase. Once you factor in these upgrades, the cost of a one-time purchase vs an annual fee is about the same.
For individuals, the situation has a bit more nuance. If you're trying to watch every dollar, I recommend going with Google's product suite by getting a free Gmail account. It's hard to beat a price of $0.
But what if you HAVE to get Microsoft Office and you need to keep costs as low as possible?
In this case, I'd go with the Office Home & Student option and avoid upgrading for 3-5 years. As long as you don't upgrade for about two and a half years, you'll come out ahead. You'll be saving money every year that you wait after that. When I was in college, I definitely stretched my Microsoft Office software past any normal upgrade cycle to keep my expenses down. Even today, I have a version of Microsoft Office 2011 on my Mac that I keep forgetting to upgrade. I don't recommend waiting this long but it can be done to keep costs down.
Otherwise, I'd get the Office 365 subscription and be done with it.